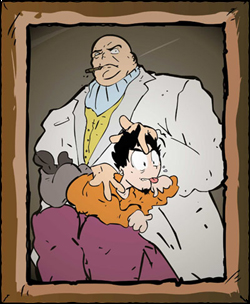 Why should you donate money to the Sandwich? Well, there is nothing in this world that motivates Brad to draw comics more than money. And buy Funk Sandwich food for us to eat, and Funk Sandwich booze for us to drink. Not good enough for you? Well, donations keep our website up and fund money into projects that will benefit you.
Once we have some financial overhead, we can set up a Funk Sandwich Store and Funk Sandwich Gaming and Anime events. The Funk Sandwich Store will provide you with not only Funk Sandwich themed apparel and merchandise, but also fresh new creative designs by up and coming artists. You will have unique shirts, only found here and maybe someday, a copy of a Funk Sandwich Art Book. The Funk Sandwich Crew hopes to start touring anime conventions and gaming conventions alike, to spread the good word across the nation. We also intend to host our own events, such as a Super Smash Bros. Tournament or Anime Saturday. And being the loyal game followers we are, we also have a couple of games in pre-production stages right now that we would love to see the light of day. Are you an anime nut? The Funk Sandwich Crew is also working on some animations in a variety of different styles. But we need your help, both creatively and monetarily.
Donations can be placed quickly and securely. Using Paypal Donation Services, you can rely on a secure transaction. If you don't have a paypal account, you can also donate using a credit card.